Haystak
was born in Nashville, Tennessee, United States. His birth name was Jason Winfrey. His is also called Haystak Mac Million.
He is a rapper of Irish and German descent. He is a native of Nashville, Tennessee, who was raised in an upper middle class home by his grandparents.Haystak is married and has one child, a daughter named Michaela. In addition to rap music, he embarked on an acting career; he had a cameo in the Academy Award nominated move Hustle and Flow and was featured in the documentary White Boyz Can't Rap.
Haystak
released the following albums including
Easy 2 Hate (2010)
,
Came a Long Way (2009)
,
Cracks the Safe (2008)
,
B.O.S.S. 1 (2007)
,
Crackavelli (2007)
,
New South (2005)
,
From Start to Finish (2005)
,
Natural (2002)
,
Portrait of a White Boy (2000)
,
Car Fulla White Boys (2000)
and
Mak Million (1998)
.
Been a Long Time [Explicit]

My People An 'Em [Explicit]

King Round Here [Explicit]

Everybody Eats [Explicit]

Swag [Explicit]

Big White Whirlwind [Explicit]

I Be Listenin' [Explicit]

Blastville Pt. 2 [Explicit]

Ya Best Bet [Explicit]

Those People (feat. Crackavelli) [Explicit]

Confrontational [Explicit]

See Me in the Streets [Explicit]

Flag Folded [Explicit]

They Ain't Sayin' Nothin' [Explicit]

F**k Up and Find Out [Explicit]

Good to the Game (feat. Freeway Rick Ross) [Explicit]

One Time [Explicit]

My Baby [Explicit]

More Like Our Children (feat. Paisley Hill) [Explicit]

Funny Bout You [Explicit]

Too Much Love (feat. Paisley Hill) [Explicit]

Please Baby [Explicit]

Silver Spoon [Explicit]

So What? [Explicit]

Stop Talkin' [Explicit]

Keep Bubblin' (feat. Paisley Hill) [Explicit]

Worst Case Scenario [Explicit]

Bottom Brawd [Explicit]

The Band Played On [Explicit]

Beginnin' of an Era [Explicit]
Come So Hard

I Am Legend

The Hatred Is High

I Am That White Boy

Village Idiot

Keep Playin!!!

What's Work

Pavarotti

Relevant

White Boys

Outta Town Interlude

Varooom

Waiting For You

Gone For So Long

David & Goliath

Bitch

Paper Boy

Killers
B.I.G. Till I D.I.E.

Blessings

Who Can Do It Better

Bigger Than That

Here Go

Test Yo Heart

Gotta Watch

Youll Gone Make Us

Im Wit It

My Pain

H#&& Naw!

Im So Tired

F@#$ Em!

The Hole
Intro [Explicit]

Get It Started [Explicit]

Life In The Smash [Explicit]

Rolling [Explicit]

Tell 'em To Hush [Explicit]

Lincoln, Lincoln [Explicit]

The Reason [Explicit]

Herijuana [Explicit]

I'm On Fire [Explicit]

They Can't Stop Us [Explicit]

Big Wad Of Money [Explicit]

When I'm Gone [Explicit]

When The Fuedin' Was On [Explicit]

No Mercy [Explicit]

Think About It [Explicit]
Mar 2007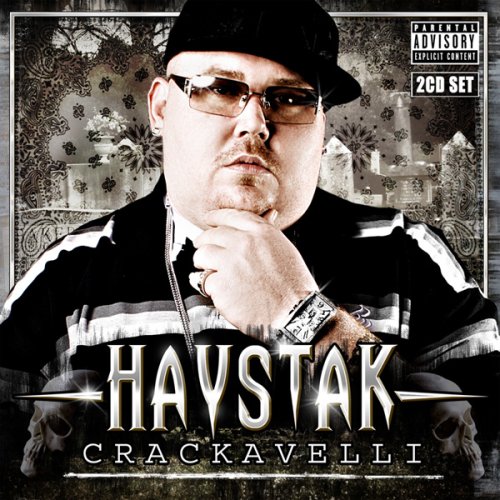 Intro

Crackavelli

I'm Haystak

Bounce Through Ya Block

Trouble Man

Make You Fly

Track 7

Boss Status

Kindness For Weakness

Reloaded

You Soft

Baked

Fall Through The Club

Freak Show

Freak Show

Welcome To Nashville

Nashville

Angels

My Lyrics

Drive

Excess Weight

Let's Ride

Pray For Me

Nothing Is Wrong

Respect

Special Kinda Girl

Sail On

Rap Money

Change

Pale Face
Tough Guy Feat. Bun B

Never Forget My Name

Been Stoned Kids

Aint No Love

Phonecall

Good Man

Turn It Up

My F.U. Song

Hush

Without You

Im A Beast

Youre Not Like Us

L Dont Lie Feat. Young Buck

Rolling With Me

Whiteboy

Rowd Up

Rest Of My Life

No Hook

Think Of Me Feat. Shortyo

Get Ya Head Right Feat. Shortyo
Aug 2005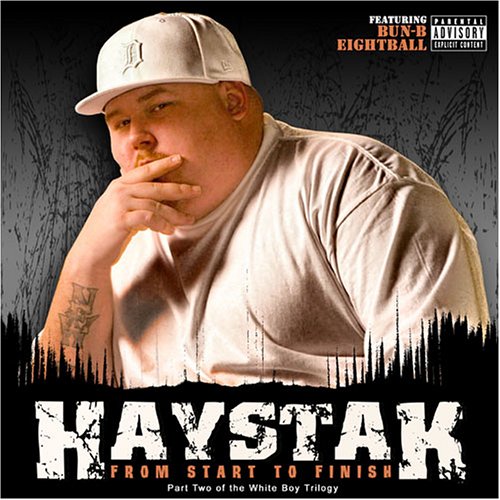 We Roll

I Ain't No Pin-Up

Boo Hoo Hoo - Bun B, Haystak

Keep It Southern

Kick They Back In - 8Ball, Haystak

U Hard

My Friend

Whiteboy

Mama

Be Strong

Rollin' with Me

From Start to Finish [DVD]
I'm Losing You

The Long Way

One Heartache At A Time

Poor Man Blvd.

P.O.W. 36

Bone Dry

Lying To Myself

More Love

Born In The Dark

I'd Be Better Off (In A Pine Box)

You Just Don't Love Me Anymore

Ft. Worth, Texas

Time

Take Back Your Old Love Letters

Both Sides Of Good Bye

If It's All The Same To You

No One But You

If You Think You're Lonely
Intro [Explicit]

Fight, Write, Die [Explicit]

Dadgummit [Explicit]

Broads & Alchohol [Explicit]

Red Light [Explicit]

Hustle & Flow [Explicit]
Still You Doubted Me [Explicit]

Off Tha Wall [Explicit]

Girl [Explicit]

My First Day [Explicit]

Make Money [Explicit]

Strangest Dreams [Explicit]

Big [Explicit]

Staks World [Explicit]

Safety Off [Explicit]

First White Boy [Explicit]

Done [Explicit]
Car Fulla White Boyz [Explicit]

Reckon [Explicit]

Can't Tell me (8 ball) [Explicit]

Dollar [Explicit]

Down South [Explicit]

Ride [Explicit]
Brother Like Me [Explicit]

On Trial [Explicit]

Need It Get It [Explicit]

Wish You Could [Explicit]

Some Of That [Explicit]
The Bottom [Explicit]

Love You Like [Explicit]

Listen [Explicit]
Intro

Go 2 War

Flossin'

Came Along Way

Down Yonder

Yeah

M-O-N-E-Y

So Dope

S.S. Big Pimp

Don't Want It

Ballin'

Desperado

World Wide

A Self-Made Man

Strugglin' Strivin'