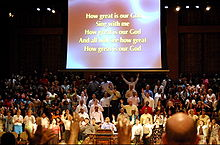 The Brooklyn Tabernacle Choir is directed by Carol Cymbala, the wife of Senior Pastor Jim Cymbala and the daughter of the church founder, the late Rev. Clair Hutchins. Although the Choir is composed of vocally untrained church members, it has been used by the Lord to present the love of God all over the world. The 285-voice choir has recorded three videos, three DVDs, and numerous albums, winning six Grammy Awards.
Brooklyn Tabernacle Choir
released the following albums including
Declare Your Name (2009)
,
I'll Say Yes (2008)
,
I'm Amazed Live (2005)
,
Live...This Is Your House (2003)
,
God Is Working (2002)
,
Be Glad (2002)
,
Light of the World (2001)
,
Hallelujah!: The Very Best of the Brooklyn Tabernacle Choir (2000)
,
High & Lifted Up (1999)
,
Favorite Song of All (1996)
,
Praise Him...Live! (1995)
,
Live...We Come Rejoicing (1993)
,
Oh, What a Love (1992)
,
The Brooklyn Tabernacle Choir Live ... Again (1992)
,
The Brooklyn Tabernacle Choir Live With Friends (1991)
and
Jesus Be Praised (1991)
.
Brooklyn Tabernacle Choir Comments