Juan Luis Guerra
was born on 07 Jun 1957 in Santo Domingo, Dominican Republic. His birth name was Juan Luis Guerra Seijas. His is also called Juan Luis Guerra.
He is a singer, songwriter, and self-producer who has sold 20 million records, and won numerous awards including nine Latin Grammy Awards, two Grammy Awards, and two Latin Billboard Music Awards. He won 5 Latin Grammy awards in 2007 tying him with Juanes for the record of most Latin Grammys won in one night.
Juan Luis Guerra
released the following albums including
A son de Guerra (2010)
,
Archivo Digital 4.4 (2007)
,
La Llave De Mi Corazon (2007)
,
Para Ti (2004)
,
Grandes Exitos de Juan Luis Guerra 4.40 (2000)
,
Mientras Mas Lo Pienso...Tu (1999)
,
Fogarate (1999)
,
Areito (1992)
and
Bachata Rosa (1991)
.
No Aparecen

La Guagua

Mi Bendicion

La Calle (Feat. Juanes)

Bachata En Fukuoka

Apaga Y Vamonos

Son Al Rey

Cayo Arena

Arregla Los Papeles

Lola's Mambo (Feat. Chris Botti)

Caribbean Blues
Niagara en Bicicleta

Cuando Te Beso

El Costo de La Vida

La Hormiguita

Mal de Amor

Viviré

Palomita Blanca

La Cosquillita

Tu

Amapola

Amigos

Quisiera

Mi PC

Amore de Conuco [Pop Version]

Señorita

Bendita Tu Luz [*]

Abriendo Caminos
Medicine for My Soul

La Travesía

Te Contarán

Que Me des Tu Cariño

Como Yo

Si Tú No Bailas Conmigo

Solo Tengo Ojos Para Ti

Amore

Cancioncita de Amor

Sabia Manera

La Llave de Mi Corazón

Something Good

A La Vera [*]

Medicine for My Soul

La Llave de Mi Corazón
Aug 2004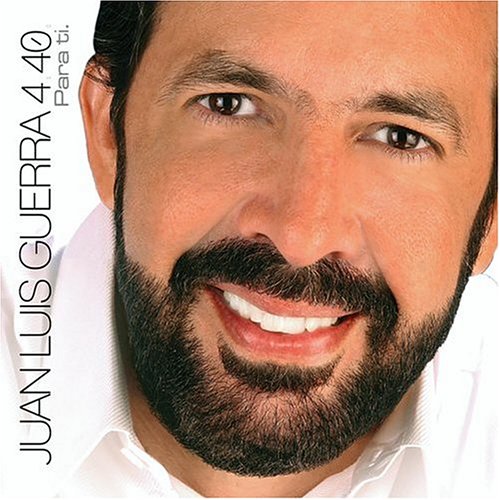 Soldado

Eres

Dinteles

Gloria

Mi Padre Me Ama

Avispas

Tan Sólo He Venido

Para Ti

Extiende Tu Mano

Aleluya

Canción de Sanidad [*]
Ojalá Que Llueva Caf

Bilirrubina

Visa Para un Sue

Pedir Su Mano

Costo de la Vida [Letra Versi

Woman del Callao

Señorita

Cosquillita
Guavaberry

Tu

Amor Conuco

No Me Acostumbro

¡Ay! Mujer

Amigos

Rock-A-Fiesta
Los Mangos Bajitos

El Farolito

Los Pajaritos

Vivire

El Beso De La Ciguatera

Oficio De Enamorado

Lacrimosa

Fogarte
Areito

El Costo de la Vida

Señales de Humo

Ayer

Frío Frío

Rompiendo Fuentes

Mal de Amor

Si Saliera Petroleo

Coronita de Flores

Cuando Te Beso

Cuando Te Beso [*]

Naboria/Caca Mayanimacana
Estrellitas y Duendes

A Pedir Su Mano

La Bilirrubina

Reforestame

Acompaneme Civil
Juan Luis Guerra Comments